Good to know he hasn't lost his touch.
"Helena" could very well be Phoebe Walker-Bridge's character as there aren't many other women in the cast…
But but but…the internet had decided that The Incredible Hulk was ignored!?!?!
WHAT DO YOU MEAN EVEN MINOR CAST KEPT RECURRING TO THE POINT A STUDENT WHO NAMED THE HULK IS SPIDER-MAN'S SCIENCE TEACHER?!?!?

Here's hoping Olga Kurylenko gets more than 1 word this time…
Intriguing…You have to wonder if it's all a PR construct.
It feels like this will turn out to be a pen name for another established writer writing out of genre, like JK Rowling writing as Robert Galbraith. I can't come up with another scenario that makes sense. A no-name writer isn't a selling point for a movie, so there's no reason to make a name up otherwise…
Well, the line about being the most incredible spy fiction since Ian Fleming tries very hard to put this on the map.
And since Vaughn and EON have no good history, as I understand, I could imagine him making all of this up.
Especially since original content these days is almost never picked up by studios, only adaptations.
There is no author or novel? Create one!
The only other thing I can think of is that this is some sort of situation where maybe Elly Conway is a character in the movie who, in the movie, is writing a book about a spy named Argylle, and this is that book. Sort of a metafictional tie-in.
Didn't see that coming. Is it 2005 already?
Here is a resurrection of a DC character worth getting excited over.
I seem to recall people finding it "meh" at best - is that Discovery money good Deadline?
They're really committed to repeating the same mistakes with DC properties!
To be fair, despite not being very well received on its initial release the film has undergone a bit of a reevaluation in recent years. I think this is mostly down to how Reeves is viewed today; a genuinely wonderful person. Still a huge miscast for Constantine though.
https://m.youtube.com/shorts/6zQMj6P3VPQ
You mean this doesn't make you leap to…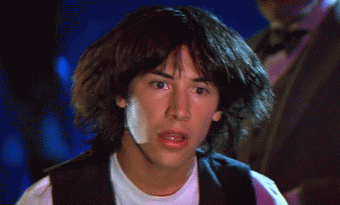 His casting in the original was blatantly a cash in on The Matrix
On this news I'm rewatching the first one. Mostly it gets the style and tone of the comics, Keanu Reeves and Shia LaBeouf reek of studio mandate, but Reeves definitely did his homework, his only issues are things he can't change - he doesn't look like Sting and always has an air of surfer on the beach.
The rest of the cast are perfect for their roles, and, again, the style and tone is exactly the source material.
Note: it uses the American pronunciation of ConstanTEEN verses ConstanTYNE that Alan Moore specified (there's a really awkward bit in Andy Diggle's run that specifies it)
Note 2: see my avatar
I also didn't get a chance to see Dances With Wolves in the theater. Something tells me that re-releasing that film to theaters would be a better use of my time.
Actually, it's kind of funny, but re-releasing AVATAR ahead of the sequels release could backfire. He'd be better off riding the wave of blind nostalgia for the original rather than putting it out there for people to see and then risk losing business for the sequels when those who haven't seen it discover just how ridiculously overrated it is.
Possible. But I predict a wave of nostalgia for those who went 10 times during the original run, and when the sequel comes it will be perfect timing because no blockbuster is competing (BP2 already will have made most of its money by then).