An article in the latest Times Literary Supplement by William Boyd (author of Solo ) claims to have discovered the location of James Bond's flat. Some excerpts:
The Spies Who Lived Here: How I found James Bond's precise address
By William Boyd
I am in London. In Chelsea to be precise, at the entrance to Wellington Square off the King's Road, where I am being interviewed for the French radio station RTL – à distance sociale – about James Bond. The reason why we're at Wellington Square is because this is where James Bond lived. Obviously, James Bond is a fictional character and didn't actually live anywhere. However, it is strange how in the case of some fictional characters a kind of reality begins to take over their lives, as if they really did live and breathe, had an actual address and a mortgage…
When I came to write my James Bond continuation novel, Solo (2013), I set myself the task of re-reading all of Ian Fleming's Bond novels in chronological order, pen in hand, making notes, with the idea that all the texture and detail in the new novel would be classic Bondiana…
…Fleming was not precise about the exact location, referring to Bond's address in Moonraker (1955) as "a comfortable flat in a plane-tree'd square off the King's Road". There are several small squares off the King's Road that could be candidates, but in Thunderball (1961) Fleming lets slip a crucial coordinate when he writes: "Bond … swerved out of the little Chelsea Square and into the King's Road … He pushed the car fast up Sloane Street and into the Park". There are only two squares off the King's Road where it is possible to access Sloane Street so quickly: one is Wellington Square and the other is Markham Square…Markham Square, however, has no plane trees so that rules it out and unequivocally establishes Wellington Square, which has many plane trees, as the location where Bond had his flat…
There is another significant reason why Wellington Square might have proposed itself as a suitable address for Bond. In the late 1940s and early 50s Fleming was the Foreign Manager for the Sunday Times , a person of power and influence at the newspaper. During this period, the chief book reviewer for the Sunday Times was Desmond MacCarthy, a central member of the Bloomsbury Group. As it happened, MacCarthy and his wife Molly lived in Wellington Square. They were legendary entertainers and their home became a kind of salon. Cyril Connolly was one of MacCarthy's young protégés and a regular at the soirées – and, what's more, Connolly and Fleming were close friends. All three were Old Etonians, incidentally. The circumstantial evidence is compelling. It is highly probable that Fleming went to one or more of the MacCarthys' parties in Wellington Square, either through his own connections with MacCarthy via the Sunday Times or as a friend of Connolly. MacCarthy died in 1952, the year before Casino Royale was published, though it wasn't until Moonraker, three years later, that Bond's Chelsea flat received its first mention.
John Pearson, who was Ian Fleming's first biographer (also a colleague on the Sunday Times ), wrote a spoof biography of James Bond in 1973. He identifies the "plane tree'd Chelsea Square" as Wellington Square also, and, intriguingly, gives the house where Bond's flat was located as No 30. But this was in fact a private joke: Pearson had a university friend who lived at No 30. There was no remote connection to Fleming or Bond.
The MacCarthy house is to be found in the eastern corner of Wellington Square. Bond's flat, according to Fleming, was on the ground floor and was described in From Russia, with Love (1957) as having "a long big-windowed sitting room". The ground-floor window of the MacCarthy house fits that description perfectly. One other sliver of circumstantial evidence I would offer is that, in the same novel, Bond's sitting room is described as "book-lined". Most readers wouldn't think of James Bond as an intellectual but books would certainly be the most prominent aspect of the MacCarthy house's decor. In fact, Fleming took pains to stress Bond's wide reading, despite the fact that Bond (Eton and Fettes) had no tertiary education. Bond makes reference to many books and writers in the novels: Eric Ambler, Lafcadio Hearn, John Milton, Ralph Waldo Emerson, Edgar Allan Poe, Sheridan le Fanu and Rupert Brooke among others. Bond is a very well-read spy. I would argue that this was another spin-off from Fleming's location of Bond's flat in Desmond MacCarthy's house.
…I finish the interview…We re-cross the King's Road to Wellington Square to meet the rest of the RTL team…"So, James Bond definitely lived in this square?" the interviewer asks. Oh, yes, I say. Do you know what number? I do, as it happens, I admit. I point it out: Desmond and Molly MacCarthy's house. Number 25, Wellington Square . That's where James Bond's flat was. Stand by for the Blue Plaque.
---
Though I've visited London twice I don't know the town well enough to visualize Number 25 Wellington Square, but Google Street View does: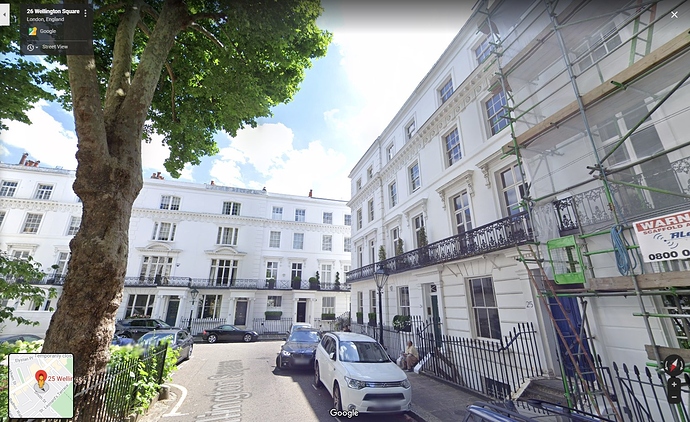 If you squint you'll see "25" next to the blue door near the scaffolding. And note the plane tree to the left!